New Year's Eve gives some people the hope of a new beginning, a fresh start, the BIRTH of a NEW DAY!!!! Lindsey's BIRTHDAY is January 4th so in celebration of the New Year AND Lindsey's Birthday, make a Birthday card!!!
SCS Keyword JBENYE4

Challenge details ~ EVERYONE can play along and we hope you do!!! All you have to do is go to the Jacksonbelle Embellishments Blog and link your card in the post for this challenge!! That's it! The deadline to enter for the CHALLENGES (blog candy deadline is different) is 1/4/09 by 12pm EST! There will be a prize given away for each challenge. If you upload to SCS, please include the keyword JBENYE1. This way, we can all see your beautiful creation!

Blog Hop Treasure Hunt ~ This is going to be so much fun!!!! We can't tell you WHO is the bearer of the BLOG CANDY…you will have to go FIND it!! Visit ALL the girls' blogs below and MAYBE one or two of them might have some candy to share!! When you find the bearer of the gift(s), leave a comment on their blog! That's it!

All winners will be announced on the Jacksonbelle Embellishments Challenge Blog on Monday, 1/5/09.

AND...there is chatting to be done!!! Come join us at the JBelle Group on PaperCraftPlanet for some NYE Fun!!!

Here is my birthday card (I used this week's Sketch Chellenge)...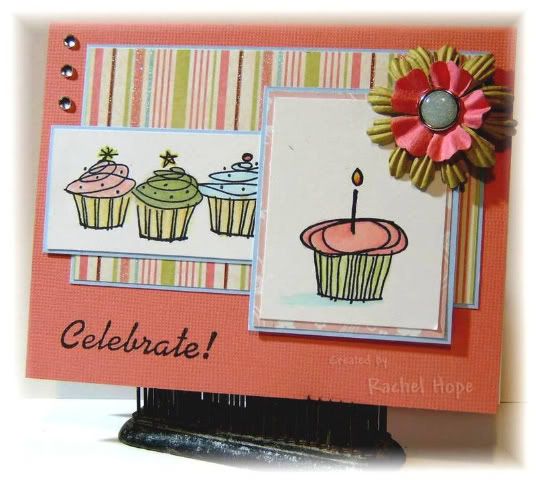 Supplies:
Stamps: Birthday Cupcakes (Inkadinkado)
Paper: Sweet Satin Ribbons (Imaginisce,) White (PTI,) Pink Textured Card (DCWV,) Bashful Blue (SU)
Ink: Graphite Black, Copic Markers
Misc: Glazed Brads, Prima Flowers, Sticky Gems
Check out what the other Design Team Gals came up with:


AJ Otto
Jennifer Buck
Jill Dunn
Kisa Peters
Kimberly O'Rosky
Lindsey Botkin
Lynda Benden
Maren Benedict

Melissa Bove
Michelle Woerner
Shannan Teubner
Taylor Usry